A few days ago spring was teasing us with a taste of warm sunny weather. Being that we are suffering from last days of winter cabin fever, we loaded up our kids and headed out for a hike at a nature preserve near us. This particular area has cliff carvings done by ancient Native Americans. There were pictures of men hunting deer and buffalo. There was also some carvings of horses, a dragonfly, and a bird that resembled an ostrich. There were signs warning against defacing the cliffs punishable by hefty fines. And then I caught my son Eddie standing near this.

Busted?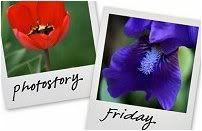 Hosted by Cecily and MamaGeek
* Just so the FBI doesn't raid our house to take my oldest away, the cliff was like that when we got there.